Highly energy-efficient HMI gives you 92 lumens per watt
The Arri M18 is a hybrid – a punchy HMI fixture that can be powered from most domestic sockets.
Although it's as small as a 1200w PAR lamphead it has 70% higher light output, and you don't need a generator.
This fixture comprises an 1800w ARRIMAX style lamphead that gives a really even beam spread that casts crisp shadows. Adjustable from 20° to 60° beam angle, the M18 can also be used with 1200 W bulbs.
In design terms the Arri M18 is an open-face fixture that combines the characteristics of a PAR and a fresnel.
New 1800 W lamp
Compact as 1200 W lamp but 70 % brighter
Runs from most domestic sockets world-wide
Can also be used with 1200 W lamps and ballasts
Cross Cooling allows safe operation at any tilt angle
Temperature:
Daylight
Weight:
10.5Kg
Dimensions:
700 x 390 x 390mm
Manufacturer:
Arri
Battery Option:
No
Silent Operation:
No
Other Specs:
We supply a Power Gem ballast with the head

Hire Includes:
Light, Ballast, Ballast Cable, Spare Bulb, Jumper to 13amp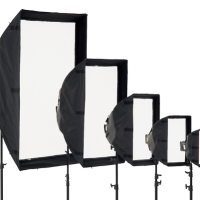 When you need to soften light in a studio or production environment choose from our range of market leading softboxes and chimeras