The brightest LED panel available in a bicolor spec
Litepanels were the first company to make LED powered film lights. So the Astra 1×1 bi-color panel is the result of all their experience in this area.
Expert engineering
All the Astra panel lights are 1 foot square. They  combine high CRI, surface mounted LEDs with custom-designed TIR optics. This makes the Astra 1×1 Bi-color panel the most powerful bicolor panel light on the market. This is why we think you will find it a really useful tool in all kinds of set ups.
Powerful bi-color performance
Although the light head is very compact, the LEDs are really tightly packed into this small space. Litepanels have optimised the optics for better colour rendition, a longer throw and a wider beam field than most of the competition. So now you can use a single Astra bi-color panel instead of two or more weaker panel lights.
The Astra 1×1 Bicolor gives you the punch of a 2Kw tungsten soft light from a power draw of only than 110 watts. This is a real break through for a technology not normally associated with punch! The compact size makes it really portable.  You also have the option of either vlok or mains power as standard. It fits existing diffusion like the DOP Choice softbox , but the 100-0 dimming is so smooth you might not need additional diffusion.
Although the LEDs in the Astra 1×1 bicolor panel are tightly packed for maximum performance, the onboard fan is completely silent and won't distract the sound engineer!
All in all we think this is a great little bicolor panel that delivers more light than we thought possible given it's compact and portable package and that once you discover it, you'll want to use it everywhere.
High performance LEDs with custom paired optics
Higher intensity = longer throw and wider spread
Smooth dimming 0 - 100%
AC or DC (Vlok) power options
Dop Choice Soft Box compatible
Temperature:
Bicolour
Weight:
3.2Kg
Dimensions:
45x41.3x13.4mm
Manufacturer:
Litepanels
Battery Option:
Yes - Vlok
Silent Operation:
Yes
Other Specs:
No noticeable color shift throughout the entire range when dimming
Flicker-free at any frame rate or shutter angle
Full spectrum quality soft light, with visually accurate color temperature
Controlled current and thermal management for long LED life
AC or DC power options
Low power consumption and enhanced reliability
More powerful than the original 1x1 LED panel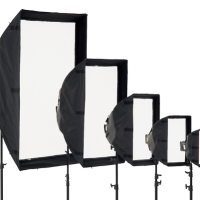 When you need to soften light in a studio or production environment choose from our range of market leading softboxes and chimeras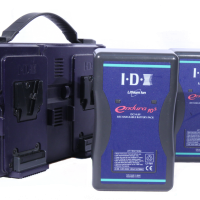 The low energy draw of our green lights mean that many will run off batteries. We have a range of batteries that make our lights an even better choice when you're shooting away from a power source.