Slim, silent and weather proof
The Velvet 2 LED panel is the bigger sibling of the Velvet 1
Developed in Spain by The Light, the Velvet range uses a unique combination of 3 LED types to deliver light that is soft, controllable and easy to rig. The 30 degree beam angle is tuneable to give you flexible light direction. If you need more focused light, use the supplied DOP choice eggcrate to put the light exactly where you need it. The high quality LEDs used in the Velvet 2 LED Panel will run for over 50,000 hours from either 90-264V AC power, or use Vlok batteries if you are out and about.
Choose the Velvet 2 LED panel if you need a large soft light on the go
Both the Velvet 2 LED panel and the smaller Velvet 1 LED panel are designed to be rainproof, so you can use them confidently in all weathers! At just under 8kgs, the Velvet 2 LED panel isn't exactly lightweight, but it's easier to rig than some of its chunkier cousins like the Arri Skypanel S60.
There's no fan on the Velvet 2 LED panel so there's no issue with operating noise. Choose between daylight and tungsten with a single switch or dial between the two in precise 100 Kelvin steps. So, if you need to use this alongside other Velvet LED panels you can be sure of colour consistent light between both fixtures.
2x width of the Velvet 1 LED Panel
Fully dimmable
Bicolour with precision dial up in 100k increments
AC or Vlok battery options as standard
Robust build with high quality LEDs giving reliable output
Temperature:
Bicolour
Weight:
7.4Kg
Dimensions:
690x308x68mm
Manufacturer:
The Light
Battery Option:
Yes - Vlok
Silent Operation:
Yes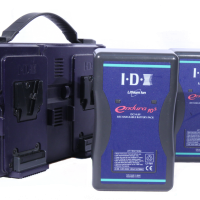 The low energy draw of our green lights mean that many will run off batteries. We have a range of batteries that make our lights an even better choice when you're shooting away from a power source.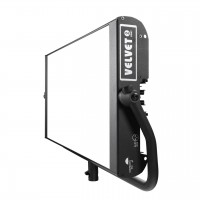 A larger bicolour panel with a robust design, powerful features and precise colour temperature control the Velvet 2 LED panel is great when you need a larger fill light