Lite Tile Plus Kit 4×4 – stick it together any way you light...from our Flexible lights for hire
Lite Mat engineering in a lightweight, foldable package
We first saw the Lite Tile Plus Kit 4×4 at the IBC Show in 2016.  It's been on our wish list ever since.  This flexible, modular LED panel light gives powerful soft light without extra diffusion. And, even better, it weighs less than 2kg.
Long and skinny or short and fat – your light, your way
LiteGear have tried, with the Lite Tile Plus kit 4×4, to think of all the ways you might need to light. This 4×4 foot fixture is the smaller of the two Lite Tile kits we carry, we also have a 8×8 foot version if you really want to go large. What you get is two separate 2×4 foot bicolour LED panels. Velcro them in a strip, a square or back to back if you need surround light. This fixture is so light it's also easy to rig on a frame or hang off a pole for an overhead soft light. And, don't worry about the quality. Inside these flexible panels the LEDs are the very same high quality, robust diodes that power the every popular Lite Mat family.
Fold it up and off you go
The whole unit gives you gorgeous, soft light over a pretty big area, but The Lite Tile Plus Kit 8×8 folds down just like a paper map – how delightfully old-school! The whole thing ends up as small as a Lite Mat 1, easy to pack, up and carry to the next location. And, as if that wasn't enough, LiteGear have tweakedthe Kelvin range, on these Lite Tile Pluses so you can dial the whole range from deep tungsten (2600)  to 6200K. The CRI rating is a steady 95+ whatever the colour temperature.
Space too tight for a Lite Tile Plus Kit 4×4? No problem, try these…
This kit comprises the two panels,  LiteGear Dimmer Hybrid Units plus Y cord and 2x15ft cables. At this point the Lite Tile Plus doesn't run off batteries. We're pretty sure there will be a battery option soon, and when there is, you know where to find us. If you need a battery option right now, check out out the Lite Mat 4 or if the Lite Tile Plus Kit 4×4 is still a bit too big, what about the Carpet Light?
Ideal for studio or location use
Lite Mat LED engines for reliable power
Extended Kelvin range of 2600 to 6200K with 95+ CRI
Fold it down or spread it out - work your way
Flexible engineering from LiteGear home of the Lite Mat series
Temperature:
Bicolour
Weight:
1.9Kg
Dimensions:
616x1194mm
Manufacturer:
LiteGear
Battery Option:
No
Silent Operation:
Yes
Other Specs:
CineMitter LED technology offers a 40% increase in brightness over VHO Pro. Litegear have extended the Kelvin range to 2600 degrees to allow for candlelight or deep tungste output. On the cool side the Lite Tile Plus can be dialled to 6200K to better balance for overcast skies or to match cool flourescents.
Hire Includes:
2 x Lite Tile Hybrid (Bi-colour) strips of 2'x4'
2x Litegear Dimmer unit with Y cord
2x 15' Header Cable
1x IEC cable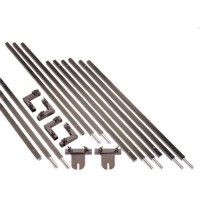 With frames from Avenger, Manfrotto and Chimera in a range of sizes from 2'x2' to 12'x12', you'll find something in our range to fit your needs. If you want your diffusion already mounted, just ask.